Wednesday, February 17, 2010
Delicious winemaker dinner at Acquerello Restaurant
Delicious winemaker dinner at
Acquerello Restaurant
last night. The winemaker brought wines that the chef wanted to pair with her food. It was all =really= delish.
Before we went, his nibs said, Piemonte wines. I think we've been to the village this wine is supposed to come from. He named it. I checked. I rummaged through old digital photos we'd taken on a trip in September 2002. And, yes, we had indeed walked through the village of Serralunga d'Alba.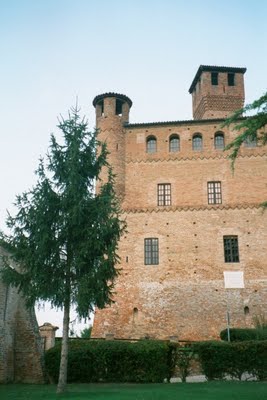 We'd poked through the square and climbed up into the castle that dominates the surrounds.
We'd walked through Gaja vineyards in the morning and watched them harvesting, before we walked up to the village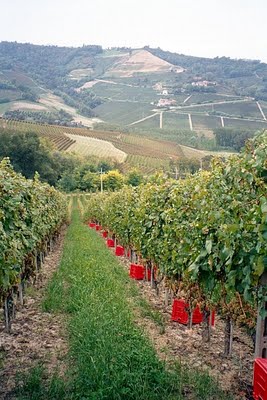 but I'm pretty sure we hadn't walked through Ettore Germano, which is a ways from the village and on the other side of the village from Gaja.
Tasty wines last night. He had a sparkling to start and a gem of an un-oaked Chardonnay before he dove into Barolos and such.
Plus Sergio Germano was a very charming man with loads to talk about truffles and wine and winemaking. Entertaining evening all around. We need to visit Acquerello more often than we do. Suzette Gresham-Tognetti makes such amazing food.
Labels: food, restaurants, San Francisco, travel, wine
Opening Summer 2008 | press club
Opening Summer 2008 | press club
Waiting. (Waiting. Waiting.) for Press Club to clear up whatever ABC issues they're having and open ... and not just because Sophie will be pouring Mount Eden Vineyards' wines.
The wineries involved in this new and different wine bar opening (SOON!) on Yerba Buena Lane are Hanna Vineyards, Mount Eden Vineyards, Fritz Winery, Chateau Montelena Winery, Miner Family Vineyards, Pahlmeyer, Saintsbury, Landmark Vineyards.
Should be fun. Support your local winemakers.
Labels: San Francisco, wine
Bertold Brecht:
Everything changes. You can make
A fresh start with your final breath.
But what has happened has happened. And the water
You once poured into the wine cannot be
Drained off again.