Wednesday, February 17, 2010
Delicious winemaker dinner at Acquerello Restaurant
Delicious winemaker dinner at
Acquerello Restaurant
last night. The winemaker brought wines that the chef wanted to pair with her food. It was all =really= delish.
Before we went, his nibs said, Piemonte wines. I think we've been to the village this wine is supposed to come from. He named it. I checked. I rummaged through old digital photos we'd taken on a trip in September 2002. And, yes, we had indeed walked through the village of Serralunga d'Alba.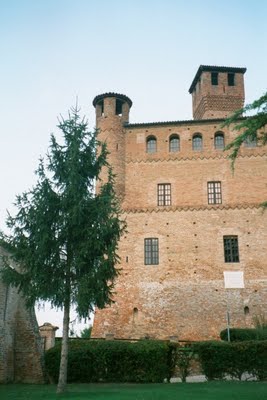 We'd poked through the square and climbed up into the castle that dominates the surrounds.
We'd walked through Gaja vineyards in the morning and watched them harvesting, before we walked up to the village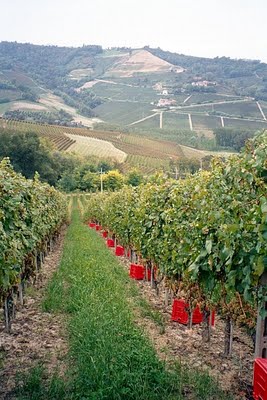 but I'm pretty sure we hadn't walked through Ettore Germano, which is a ways from the village and on the other side of the village from Gaja.
Tasty wines last night. He had a sparkling to start and a gem of an un-oaked Chardonnay before he dove into Barolos and such.
Plus Sergio Germano was a very charming man with loads to talk about truffles and wine and winemaking. Entertaining evening all around. We need to visit Acquerello more often than we do. Suzette Gresham-Tognetti makes such amazing food.
Labels: food, restaurants, San Francisco, travel, wine
Monday, December 14, 2009
Truffle-palooza last Saturday night
Last Saturday was the last but one dinner for the Dissident Chef. He's putting his pirate ship into drydock so he can focus on the new restaurant that's a-building at Pier 5.
The Theme was truffles ... the fungi not the chocolate. Saturday night's menu was the long-form (we got home waaay after midnight) while Sunday's (the final final final dinner for at least a year) was a shortened version to allow folks to get to work on Monday.
Eight courses, followed by three desserts. Every course, including the desserts, had truffles either in or on or over.
(White truffle ice cream .... mmmmmm)
Photos (and menu) from Saturday's Truffle-palooza
SubCulture Dining Finally Waves Goodbye
Labels: food, restaurants, San Francisco
Saturday, November 28, 2009
Sliding toward the end of the year ...
Sliding into the end of the year.
Halloween's been and gone. The clocks rolled back an hour. Day of the Dead. Guy Fawkes. Siblings' November shared-birthday, although the older sibling of the two skipped the family gathering and Thanksgiving to go off gallivanting in France and Italy. In another week December comes and with it Dad's (RIP) and Dan's shared bday, my sister-in-law's bday, my oldest brother's (RIP) bday, his nibs' bday that he shares with my uncle. Christmas. And then, around the corner, is the New Year, awaiting discovery.
And the sound of hoofbeats creeping up behind. ...
Instead of Black Friday, yesterday, his nibs and I met up at the California Academy of Sciences, where he had two shifts of docent duty, and went to the Moss Room for dinner. The Moss Room isn't, anymore. The living wall of mosses never gained traction and has been replaced by a living wall of ferns and other such flora.
Will they rename the restaurant the Fern Room? I doubt it.
We shared a delicious turnip soup with cream, a splash of this and a bit of pork belly. We shared a Lon and Bailey Farms Pork Belly with spiced pumpkin puree, sweet onions, pheasant egg, balsamic -- eggs and bacon by any other name. He had opah. I had guinea fowl on a pool of green curry, greens, fingerling potatoes. We shared a side of gratin cauliflower.
So what's on the table tonight? Leftover Thanksgiving fixings, courtesy of my talented brother (brined turkey, mashed, two kinds of dressing, corn casserole) and courtesy of my talented son-in-law with able assist from our son (salad, rolls), and my contributions (sweet potato casserole, cranberry relish, pumpkin pie).
And then the November holidays will be gone and we'll be skidding into December and what?
Where has this year gone? Anything accomplished? Happier now than last year this time? Who is gone? Who has arrived? Books read? Words written?
Flowers planted and picked and enjoyed, then tossed into the compost bin.
The days grow short when you reach the end of November.
Time to make plans.
Time to re-commit to and internalize the final panel of
Calvin and Hobbes
.
Labels: food, life, restaurants
Public transit to Eureka Valley for the annual (always a different neighborhood)
San Francisco Victorian Home tour
.
Then walked up and over to Noe Valley and hung out (in bookstores and a bar, 'natch) until
Contigo
(1320 Castro Street -- between 24th St & Jersey St) opened for dinner.
Dee-lish dinner.
Walked down to Church and took the J to the Montgomery Station and popped above ground to take the 30 to Washington Square Park. Walked home.
I'll write about all in more detail ... later.
Labels: life, restaurants, San Francisco
The traditional brunch scheduled for last Sunday was re-scheduled, so we found ourselves with an unexpected free day on the calendar.
After checking the clock several times to make sure we timed it right, we used our Ukraine-specific calling card to call the younger younger guy, who'd requested a Mother's Day call. Later, I talked with the older younger guy. Happy Mother's Day to me.
A bit after lunch, we headed down the hill to the Ferry Building for bread at Acme. After scoring our sour bâtard, his nibs took me out for a delish Mother's Day brunch at
Butterfly
on the waterfront. I watched the Bay: he watched the family dynamics of the Mother's Day celebrants in the restaurant.
Our meal started with a small platter of four amuse-bouches for each of us: a Bloody Mary oyster shooter, salmon and strawberry salad roll, tuna poke tartar, and -- my favorite -- Rob Lam's outstanding meatball of Kobe beef wrapped around a bit of foie gras and then cooked until the outside is crispy. (We'd had these meatballs at a wine tasting event at Butterfly a while back ... memorable. Hot. Crispy. Rich. Ymmmm.)
The amuse-bouches were followed by a choice of first courses. From four or so we chose two different items -- a rich, creamy shrimp bisque in puff pastry with white truffle oil, minced chives =and= spicy green papaya and mango salad with Vietnamese carmelized shrimp. We swopped halfway through.
Next, we had a choice of main courses -- again, four or so ... we both chose the Eggs Benedict three ways: traditional, w/ crab, and w/ wild mushroom. And, finally, a dessert plate from the chef. (We boxed up the non-melting portions for later consumption.)
On our way home (after opting to head straight up the stairs rather than go roundabout with the 39bus up to Coit Tower and walk down), we stopped off at a neighbor-on-the-steps' everything-must-go sale. She's headed off to Fiji with the Peace Corps and off-loading as much as possible.
We were so thoroughly full that even the walk down to the Ferry Building for bread (0.9mi), over to Butterfly for brunch (1mi), and back up the hill (0.5mi), didn't wear off enough calories. We both went to bed later Sunday night without our supper (and without having a single regret that we'd missed a meal).
A lovely day it was. ... extended by the package that arrived from our PCV (sent from Berkeley) this morning.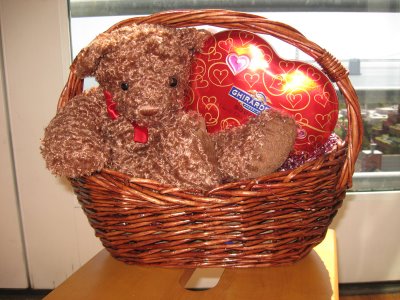 Labels: food, life, restaurants
in praise of sardines: Zagat on Contigo
in praise of sardines: Zagat on Contigo
Best of luck to Brett and Contigo (now scheduled to open ... momentarily) but since when does Zagat feature restaurants that aren't even open yet?
One Yelp review gave Contigo one star because ...
i have never gone here. i probably wont. not for any reason except that i dont live close, work nights and hate shameless promotion. the food is probably great; the atmosphere, transcendent. i would probably fall in love with cava and ask her to run away with me. but.... they have six reviews from people who have never eaten here, and in my quest for justice and equality i must say...bullshit. you didnt love it. YOU DIDNT EVEN EAT THERE BECAUSE THEY WERE NOT OPEN YET.
Indeed.
I'll wait until the restaurant actually opens before I stop by and see whether it's worth returning to.
Yelp reviewers might take a hint.
Labels: restaurants, San Francisco
Saturday, February 28, 2009
Web design tip for businesses, especially restaurants
Having a city name on the home page is a good idea.
Having the restaurant address is even better.
Chez Papa Resto
's Web page doesn't cough up the address unless you drill down to the "Contact" page.
Address: 4 Mint Plaza San Francisco, CA 94103
Phone: (415) 546 4134
Fax: (415) 546 4128
Labels: design, restaurants, San Francisco, webstuff
Saturday, November 29, 2008
Pier 39. Decked out for Christmas.
This is last year's pic but saw it today and it looks just the same.
Went for a walk down the steps this afternoon. Mailed some letters at the bottom of the hill, walked out Sansome to the Embarcadero, then walked along the edge of the water until we cut in toward Cost-Plus and B&N. We cut in a bit earlier than we really needed to because the crush of people was shredding my nerves.
Our destination had been Cost-Plus because they were having a wicked sale with 2 for 1 Christmas ornaments and deals on this and on that, but once inside I saw nothing I really needed. A few things I wanted but not enough to open the wallet.
We skipped B&N, which is next door to Cost-Plus and always the next stop, because I have a mile high stack of books to be read. We did stop at Trader Joe's on the way home for milk and for crackers for the Boccalone coppa di testa we'll be eating for dinner tomorrow.
Tonight will be chicken thighs with trumpet mushrooms, shallots, garlic, sour cream, marsala. Rice. Some vegetable.
Last night was dinner at Coi with friends. Absolutely delish. We plumped for the paired wines with the tasting menu. We wound up with that and with a couple extra glasses of wine thrown in as well as one of the dishes none of us had ordered when choosing "or" at one point. Delish, that.
The Coi staff is wonderful. Welcoming. Relaxed. Not as starchy as Gary Danko. Did I mention the food was delish?
Our reservation was for five folks at 6 p.m. They ushered us into a private room in back that I didn't know existed. We had the room to ourselves. Four hours later we rolled back out onto Broadway, us to walk up Montgomery home, our three friends to head down the peninsula.
We went for a walk today because the weather sparkled and we needed to make a vague effort to work off some of the calories for last night.
(0.9mi over and the same back, according to maps.google.com. 2 miles, if that.)
Did I mention we saw the Christmas tree at Pier 39?
Labels: food, life, photographs, restaurants
Tuesday, September 23, 2008
AQUA - Autumn Mushroom Tasting Menu
Bertold Brecht:
Everything changes. You can make
A fresh start with your final breath.
But what has happened has happened. And the water
You once poured into the wine cannot be
Drained off again.