Tuesday, February 16, 2010
The fog burns off ... a rust bucket appears
The fog was burning off this morning, after a morning much like the ones we've been having lately. If it's not raining, it is =really= foggy in the morning and then the fog burns off and around 11A or noon we are left with a sunshiney blue day.
I was taking photos of the fog burning off ... the Ferry Building. ... 10:31A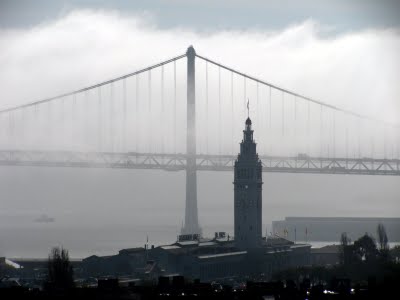 The SFO Bay Bridge. ... 10:49A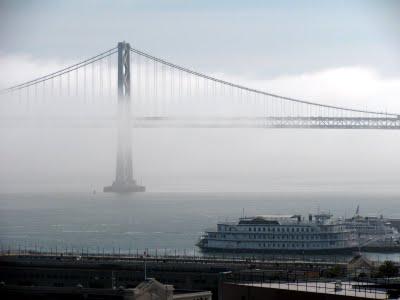 About an hour later, the fog was mostly gone and one of the old military ships from the mothball fleet in Suisun Bay, near Vallejo, appeared, dragged fore, with two tugs tailing aft, headed to have its barnacles and paint scraped before it's hauled away to be scrapped.
Rust bucket. 11:42A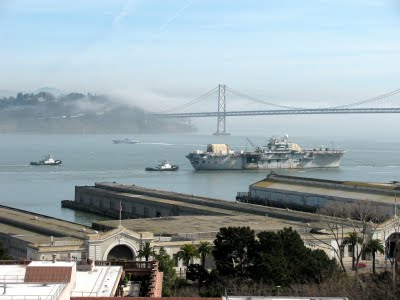 Labels: fog, photographs, SanFranciscoBay, SFOBayBridge, ships
Sunday, February 07, 2010
Cheers, to our Canadian visitors. Bon voyage!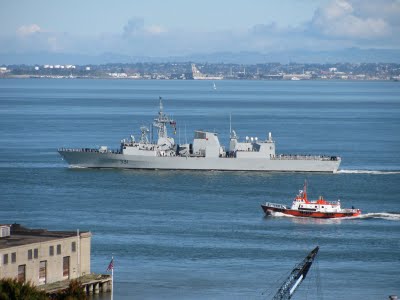 Labels: SanFranciscoBay, ships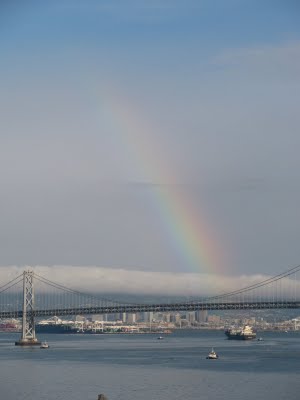 Horizon Falcon at the end of the rainbow. [26 Jan 2010]
Labels: photographs, SanFranciscoBay, ships
Tugs helping APL container ship into port this AM.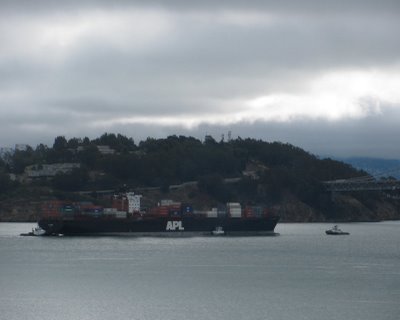 The engine(s) don't seem to be working. Tugs are guiding the ship into the Port of Oakland.
Labels: photographs, SanFranciscoBay, ships, Yerba Buena Island
The Mexican sailing ship
Cuauhtémoc
is berthed at P27 through July 18th.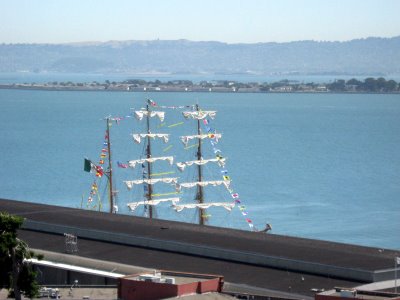 Come visit!
Labels: news, SanFranciscoBay, ships
Yesterday morning I took pictures of three ships leaving within a ten-minute-or-so period, all of them spewing crap into the air. We, of course, need to have our cars smog-checked every two years. Ships coming in and out of harbor. Not.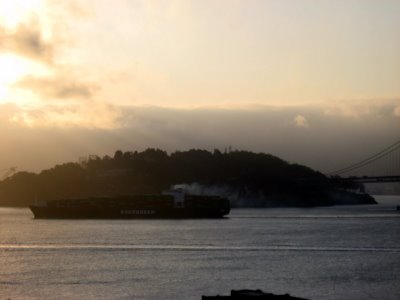 Why not?
Update:
Ah. ...
A federal appeals court agreed Wednesday
[27 Feb 2008] that state air pollution regulators can't order ships arriving at California ports to reduce their toxic contributions to local smog." The Court ruled that the State Air Board's rules couldn't take precedence over the federal Clean Air Act and the state would have to get a waiver from the EPA to allow its rules to go into effect.
OK. So when is =that= going to happen, now that TPTB at the EPA have changed? Soon? Have we asked?
Labels: economy, environmentalism, health, photographs, politics, SanFranciscoBay, ships
A visit from Carnival Splendor
[Blogger wasn't FTPing nicely this afternoon so this post was delayed. ...]
Carl Nolte writes,
Flu outbreak diverts Mexico's cruises to S.F.
The
Mariner of the Seas
(>1K' long -- displaces 137,276 tons) berthed early this morning at Pier 35.
<PALIN> We can see it from our bedroom window! </PALIN>
(yeah, yeah, yeah. I know that was SNL and not Palin.)
Just now, [well, sometime after lunch] the
Carnival Splendor
(952') came into Pier 29 and I took a mess of photographs. Together the two ships have ~ 6800 passengers aboard.
I feel kind of :-((( for the passengers because the weather was grey and drippy today. Rainy a bit and then not a bit and then rainy again. MUCH chillier than the folks on the cruise (who had signed up for Puerto Vallarta and Acapulco, &c.) were dressed for. We thought, boy, those folks down by the wharf are probably upping the prices on their fleece jackets and umbrellas.
Seems we'll have more of the same (cruise ships, that is) for a while now. ...
I imagine
Butterfly restaurant
down at Pier 33 is not the place to go for lunch. Not that we had any plans to do so. We have [had] a Cinco party down at
Mercedes - Hair of the Dog Cantina
starting at 6p.
[The Cinco was terrific. We walked down (con paraguas), stopping off at the bank to drop off a rent check. Got to the cantina a bit early. No prob. Met some new folks, old friends. Mariachis out front. Folks who weren't invited to the par-tay were sitting on the benches in the alley enjoying. Music (after the mariachis were done) by
Carlos Godinez
and his sidemen. We were seated RIGHT THERE. (Literally. We chatted across to them between songs.) Godinez played some Jobim, which made me happy.(Jobim? Cinco music? No, not really, but made me happy.) The spread was terrif. (Munchies followed by buffet. All you can drink vino blanco o rojo, margaritas o Dos Equis o whatever you wish.) I heartily endorse
Mercedes - Hair of the Dog Cantina
. Owner/staff were swell. We had a good time.]
(and then hoofed it home -- sin paraguas ... ~2mi total RT)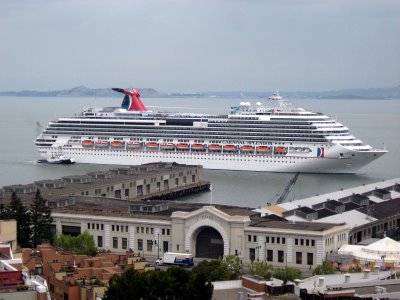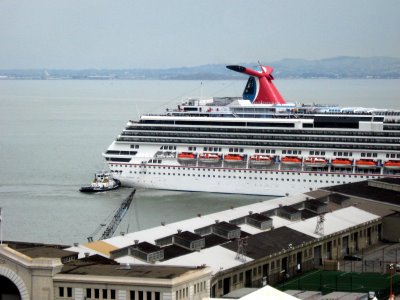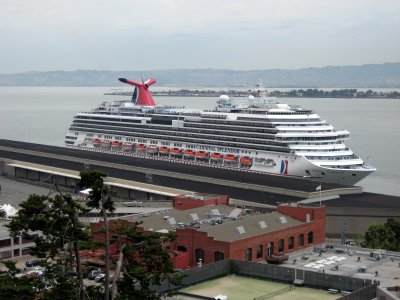 We got home to find the cruise ship nestled, all snug in its berth ...
The
Mariner of the Seas
leaves in a half hour or so, but I think the Carnival ship won't leave until morning. ...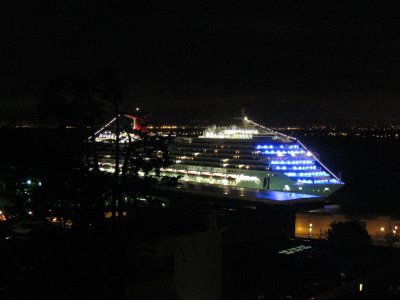 Labels: pier29, San Francisco, SanFranciscoBay, ships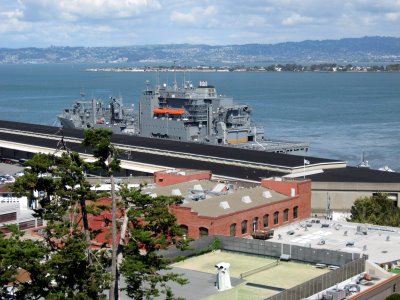 Labels: photographs, San Francisco, SanFranciscoBay, ships
Friday, February 06, 2009
The sun adding shadows to the rain clouds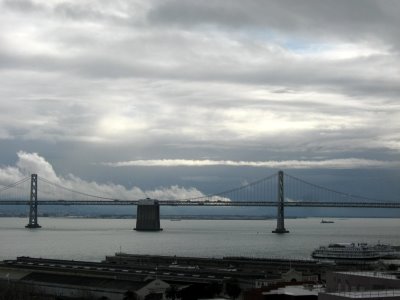 And then, a while later, a couple tugs pull a decommissioned vessel south ... to dry dock? to repair? to ???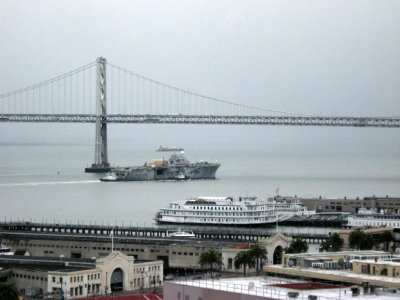 Labels: photographs, SanFranciscoBay, SFOBayBridge, ships, weather
Sailing, sailing, over the bounding main*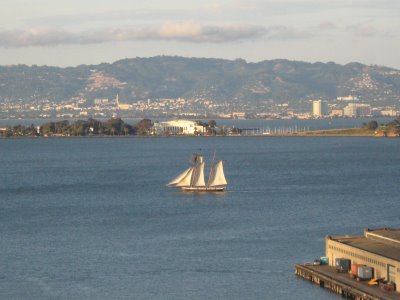 Spotted last evening before sunset.
Note UCBerkeley campanille in the east bay hills behind Treasure Island at about 10 o'clock.
*Geoffrey Marks, 1880.
Labels: photographs, San Francisco, SanFranciscoBay, ships
Memorial Day weekend guests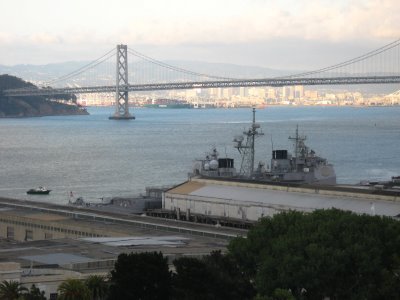 Picture taken last night of the cruiser tied up at Piers 15-17 over the weekend. When the Exploratorium takes over Piers 15-17 (Port Authority and City willing), the deal requires that the Exploratorium keep the piers maintained and clear for the occasional Navy ship to dock.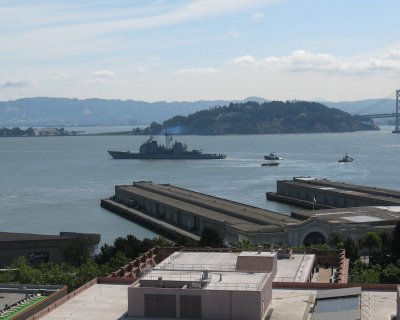 The cruiser leaving this morning with the help of two tugs.
Labels: life, photographs, San Francisco, SFOBayBridge, ships
Bertold Brecht:
Everything changes. You can make
A fresh start with your final breath.
But what has happened has happened. And the water
You once poured into the wine cannot be
Drained off again.