Tuesday, December 08, 2009
Cold. Wet. Yes, please. Could we have some precipitation?
A friend up the hill reported snow falling. His nibs said hail was causing havoc -- and slips -- on the Steps as he came home from his stint at the Academy of Sciences.
I was (relatively) snug and warm inside today. Thick sweater. Warm wrap. Fuzzy slippers. (Thermostat set at 65dF as is our wont. ...)
And then the storm cleared and I took pictures ...
Here's one: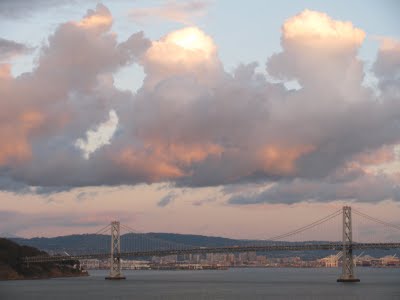 Labels: life, SanFranciscoBay, weather
Bertold Brecht:
Everything changes. You can make
A fresh start with your final breath.
But what has happened has happened. And the water
You once poured into the wine cannot be
Drained off again.